Brand: Periwalker™ PTA Balloon Catheter
Certification: NA
Service type: OEM
Supply capacity: 5000PCS /Month
*Semi-compliant and Non-compliant Balloon Catheter are available.
*Precision Expansion;
*High Pressure &Rupture-Resistant;
*Excellent Crossability;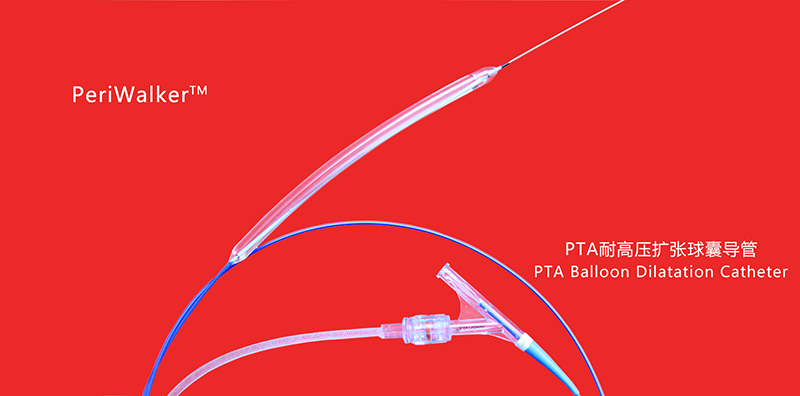 PTA Balloon Catheter
The PTA Balloon Catheter is a high performance balloon catheter for peripheral indication. The device features an ultra-low profile, semi-compliant balloon combined with a low profile tip.
Our focus is to enhance technology by developing devices with Low Entry Tip Profiles, guided by Ergonomic Pushability for your ease of use, especially in complex vessels, Tactile Trackability for enhanced Manoveuring.
As an essential feature the Dual Lumen Shaft Technology provides a rapid inflation/deflation time.
Advantage
Compliant and Non-compliant balloon catheter, designed specifically for peripheral vessel dilatation.

Precision Expansion: Precision controlled balloon diameter and length expansion: dilate the vessel exactly as wanted.

High Pressure & Rupture-Resistant: Endured high pressure(>20 Bars) and Rupture -Resistant design: more safe during dilatation

Excellent Crossability: minimum intro-profile, easy crossing for small vessel.

Over-the-wire or Rapid Exchange design with TranSmooth Technology: maximum pushability for most torque vessel.

Full ranged sizes covering most of the vessel segments.
SPEC:
Diameters:2.0-12mm
Length: 20-150mm
Guide wire: 0.014; 0.018; 0.035
Order Information (for OEM only):
PeriWalker™ PTA Balloon Catheter Order Information(OEM only)

Balloon Diameter(mm)

Balloon Length (mm)

20

40

60

80

100

120

150

PeriWalker™ PTA(014) Balloon Order Information(OEM only)

2.00

PTA01420020

PTA01420040

PTA01420060

PTA01420080

PTA01420100

PTA01420120

PTA01420150

2.50

PTA01425020

PTA01425040

PTA01425060

PTA01425080

PTA01425100

PTA01425120

PTA01425150

3.00

PTA01430020

PTA01430040

PTA01430060

PTA01430080

PTA01430100

PTA01430120

PTA01430150

3.50

PTA01435020

PTA01435040

PTA01435060

PTA01435080

PTA01435100

PTA01435120

PTA01435150

4.00

PTA01440020

PTA01440040

PTA01440060

PTA0140080

PTA01440100

PTA01440120

PTA01440150

5.00

PTA01450020

PTA01450040

PTA01450060

PTA01450080

PTA01450100

PTA01450120

PTA01450150

PeriWalker™ PTA(018) Balloon Order Information(OEM only)

2.00

PTA01820020

PTA01820040

PTA01820060

PTA01820080

PTA01820100

PTA01820120

PTA01820150

2.50

PTA01825020

PTA01825040

PTA01825060

PTA01825080

PTA01825100

PTA01825120

PTA01825150

3.00

PTA01830020

PTA01830040

PTA01830060

PTA01830080

PTA01830100

PTA01830120

PTA01830150

3.50

PTA01835020

PTA01835040

PTA01835060

PTA01835080

PTA01835100

PTA01835120

PTA01835150

4.00

PTA01840020

PTA01840040

PTA01840060

PTA01840080

PTA01840100

PTA01840120

PTA01840150

5.00

PTA01850020

PTA01850040

PTA01850060

PTA01850080

PTA01850100

PTA01850120

PTA01850150

6.00

PTA01860020

PTA01860040

PTA01860060

PTA01860080

PTA01860100

PTA01860120

PTA01860150

7.00

PTA01870020

PTA01870040

PTA01870060

PTA01870080

PTA01870100

PTA01870120

PTA01870150

8.00

PTA01880020

PTA01880040

PTA01880060

PTA01880080

PTA01880100

PTA01880120

PTA01880150

9.00

PTA01890020

PTA01890040

PTA01890060

PTA01890080

PTA01890100

PTA01890120

PTA01890150

PeriWalker™ PTA(035) Balloon Order Information(OEM only)

3.50

PTA03535020

PTA03535040

PTA03535060

PTA03535080

PTA035350100

PTA035350120

PTA035350150

4.00

PTA03540020

PTA03540040

PTA03540060

PTA03540080

PTA035400100

PTA035400120

PTA035400150