Stent Delivery Balloon Catheter
Brand: VesTraveler
Certification: CE
Service type: ODM/OEM
Supply capacity: 1000PCS
Stent Delivery Balloon Catheter
*Stent Delivery Balloon Catheter
*Stent Delivery Balloon Catheter
*Soft Tapered Modular Tip
Stent Delivery Balloon Catheter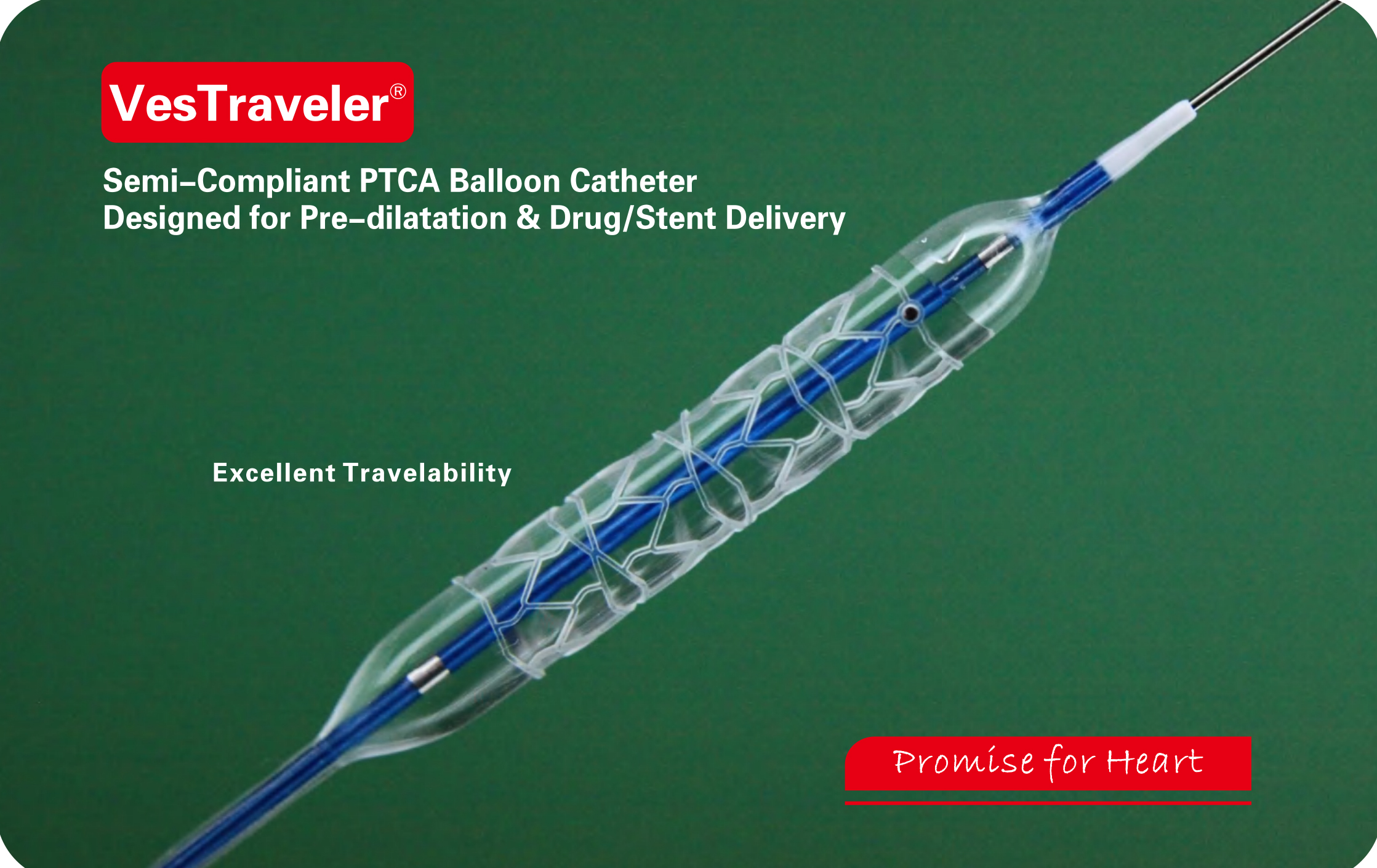 Stent Delivery Balloon Catheter is the PTCA Balloon Catheter a rapid exchange type,
semi-compliant coronary dilation catheter
Semi-compliant balloon catheter, designed specifically for Pre-dilatation and Drug/Stent delivery

Excellent Crossability: Unique tapered tip design makes it easy for using in small vessel.

Great Trace/Travelability: Thin wall balloon with clear marker band make it lowest profile even coated drug or crimped with stents, easy traveling and tracing inside vessel.

Precision Expansion: Precision controlled balloon compliance and length expansion make the drug and stents can be delivery as you desired.

Maximum pushability/Deliverability: TranSmooth™ Technology makes it maximum pushable in most torque vessel.
Order Information:
VesTraveler® Semi-Complaint PTCA Balloon Catheter Order Information

Balloon Diameter(mm)

Balloon Length(mm)

10

14

18

22

26

30

34

38

2.00

SD2.00X10

SD2.00X14

SD2.00X18

SD2.00X22

SD2.00X26

SD2.00X30

SD2.00X34

SD2.00X38

2.25

SD2.25X10

SD2.25X14

SD2.25X18

SD2.25X22

SD2.25X26

SD2.25X30

SD2.25X34

SD2.25X38

2.50

SD2.50X10

SD2.50X14

SD2.50X18

SD2.50X22

SD2.50X26

SD2.50X30

SD2.50X34

SD2.50X38

2.75

SD2.75X10

SD2.75X14

SD2.75X18

SD2.75X22

SD2.75X26

SD2.75X30

SD2.75X34

SD2.75X38

3.00

SD3.00X10

SD3.00X14

SD3.00X18

SD3.00X22

SD3.00X26

SD3.00X30

SD3.00X34

SD3.00X38

3.25

SD3.25X10

SD3.25X14

SD3.25X18

SD3.25X22

SD3.25X26

SD3.25X30

SD3.25X34

SD3.25X38

3.50

SD3.50X10

SD3.50X14

SD3.50X18

SD3.50X22

SD3.50X26

SD3.50X30

SD3.50X34

SD3.50X38

3.75

SD3.75X10

SD3.75X14

SD3.75X18

SD3.75X22

SD3.75X26

SD3.75X30

SD3.75X34

SD3.75X38

4.00

SD4.00X10

SD4.00X14

SD4.00X18

SD4.00X22

SD4.00X26

SD4.00X30

SD4.00X34

SD4.00X38